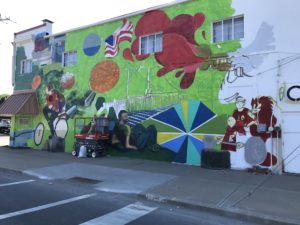 Faculty and students from Missouri Western are painting a 20′ wide x 80′ long mural in Southside St. Joseph "to add color and art, and bring new energy to the Southside," said Kathy Liao, assistant professor of art. The mural is located at the corner of Lake and Illinois avenues, and is scheduled to be completed by mid-July.
The project came about when the South St. Joseph Development Corporation and Allied Arts Council of St Joseph put a call out for a muralist this past spring, and Liao thought it would be a great project for her art students.
She enlisted the help of Indigo Gaydusek '18, Acacia Richardson '18, and students Devin Halbirt, Shelly Lundy, Madison McKinley and Kenneth Young.
Before she submitted her proposed design, Liao spoke with many Southside community members, including business owners, historians and librarians.
"We wanted to incorporate the theme of the history of the Stockyards, industry and immigration into the mural," she said.
The mural was also inspired by the feedback from Benton High School students, she said. They fondly recalled riding their bikes to the King Hill lookout that overlooks the MFA building and Livestock Exchange building.
Recognizable in the mural are iconic places such as the Carnegie Library, Lake Contrary and Hyde Park, including the suspension bridge. The numerals 238 can also be found in the mural, because many community members told Liao they were proud to be a "238-er," a reference to the phone prefix for Southside residences.
"The Southside is a place with a deep pride in its own identity and culture," Liao said. "I'm very excited to transform a building facade there into a giant piece of art."
An unveiling ceremony is planned for August.