Chiefs Training Camp Returns to St. Joe in 2020
The Kansas City Chiefs have agreed to terms on a three-year deal that would make Missouri Western  the home of Chiefs training camp through the 2022 season. The agreement includes an option to extend the partnership an additional two years after 2022.
As part of the new agreement, Missouri Western is making a number of updates to better serve fans, the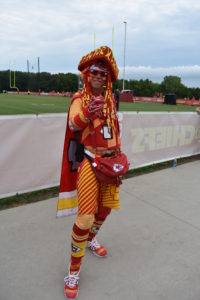 club, the community and Missouri Western students. Most notably, this includes the development of a new seating area on the north end of the existing practice fields to better accommodate Chiefs fans who are viewing practices. These improvements are already underway and are being completed through a collaboration with the city of St. Joseph and Buchanan County. In addition, the university is taking steps and working with others to renovate Scanlon Hall in preparation for housing Chiefs players, coaches and staff.

The Chiefs have held training camp on campus every year since 2010, when the club returned its training camp to the state of Missouri for the first time in 20 years. The 2020 edition of Chiefs training camp will mark the 11th-consecutive year at the home of the Griffons.
Dates and additional details for 2020 Chiefs training camp will be announced on www.chiefs.com in mid-June.
Master's Program in Top 10
Missouri Western's Master of Applied Science in Assessment programs were named in the top 10 online master's in assessment and measurement programs by intelligent.com. The ranking was based on cost, course offerings, outcomes, flexibility, faculty and reputation.
According to its website, intelligent.com provides unbiased research to help students make informed decisions about higher education program.
Global Center Opens on Campus
Missouri Western's new Global Center opened on campus in February. The Global Center is a one-stop shop for all things international!
Located in Eder Hall 101, the Center is for international students thinking of attend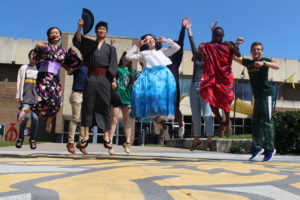 ing school in the United States, admitted international students who want to become more connected to the campus and community, and current students looking for opportunities to study abroad. They can find all the help and information they need at the new Global Center.
Study Abroad Opportunities
Experience the world through faculty-led courses that take you out of the United States and across the globe. Currently, students are signing up for two trips in May – Austria/Czech Republic and Japan.
Missouri Western's Study Abroad has hosted trips across the globe, and several are in the planning stages for the coming academic year. John Hewitt works with both faculty members and students to ensure outstanding study abroad experiences.
Exchange Programs
Missouri Western students have the opportunity to study abroad for one semester or an academic year at one of seven universities in our exchange program. Universities are located in China (2), France (2), Germany, Spain and Sweden.
Students who take advantage of our exchange programs have an amazing international educational experience as they become immersed in a foreign country for an extended period. John Hewitt will assist students who are interested in this opportunity.
International Admissions
International students who are interested in attending Missouri Western can learn about our degrees, tuition and financial aid opportunities, and how to apply for admission.
Students at Missouri Western experience hands-on opportunities that will shape their education both in and out of the classroom, and prepare them for successful careers. Tina Washburn and Rashad Howze are ready to assist all prospective students.
International Student Services
International Student Services supports Missouri Western's international students to help them become a part of the campus community. Under the direction of Fumi Cheever, ISS offers information about visas, employment and other immigration questions, academic advising, and an orientation program for new students each semester.
ISS also offers a variety of activities for the campus community, including international cooking classes, an international fair and a celebration of international festivals throughout the year.
Math Pathways to a Degree
In 2014, Dr. Jennifer Hegeman, professor of mathematics and chair of the Department of Computer Science, Math and Physics; was selected for a state task force to create college-level mathematics courses that could serve as alternatives to College Algebra and be more aligned with student majors.
The result of the task force was a statewide Math Pathways program that gives students more options as they navigate general studies math requirements for their degrees. Students now have four options instead of just College Algebra – Mathematical Reasoning & Modeling (contemporary problem solving), Statistical Reasoning, Precalculus Algebra and Precalculus.
"College Algebra became a barrier to success because it kept a lot of students from getting their degree," Dr. Hegeman said. "Math Pathways now opens a lot of doors for students."
Math Pathways is also part of the state's Core 42 program, which makes transferring between Missouri's public colleges and universities easier by requiring the same general studies course offerings across the state.
With the four options, faculty in Missouri Western's academic departments evaluated all their majors and identified the preferred general studies math course and the accepted courses. That makes it easier for students who are transferring in to Missouri Western. If they didn't take the preferred course, they don't have to retake a class if the one they took is in the accepted category.
Dr. Hegeman said an added and valuable benefit of her work on the statewide task force for three years was the relationships that she created with personnel from other Missouri higher education institutions.
To continue the work of the Math Pathways task force, Missouri Bridges for Equity and Alignment in Mathematics (MoBEAM) was formed, and Dr. Hegeman is part of that leadership group, as well.