The MWSU Ambassadors group is composed of campus and community members who provide a bridge between the campus and community. The group's focus is to raise funds for scholarships for nontraditional students, and each year, the Ambassadors host Night at the Ritz, their annual fund-raiser for scholarships.
At their three membership luncheons throughout the academic year, guest speakers increase the community's awareness of the educational, cultural and financial benefits that Missouri Western brings to the greater St. Joseph area.
The MWSU Ambassadors selected nontraditional students as its primary focus and established a scholarship fund specifically targeted for them. Each year, the Ambassadors hold Night at the Ritz to raise funds for scholarships. Since 1989, the group has distributed over $400,000 to more than 650 students.
Three membership luncheon meetings are held each academic year in Spratt Hall Enright Room 214. A social begins at 11:30 a.m., followed by the lunch and meeting at noon. The group aims to finish the meeting by 1 p.m. At each meeting, a guest speaker informs the group about Missouri Western or the community.
Dues are $20 per year and are collected in the fall, coinciding with each academic year.
If any member wants to be more active in the Ambassadors, they are invited to join the Ambassadors Executive Board, which plans the luncheons and the Night at the Ritz.
| Title | Name |
| --- | --- |
| President | Connie Wollenman |
| Vice President | Donna Wilson |
| Treasurer | Mary Shuman |
| Corresponding Secretary | Mona Dastmalchian |
| Membership | Pam Klaus |
| Scholarship | Mary Shuman |
| At-Large Members | Lori Boyer, Kimberly Chilton, Janice Cobb, Victoria Sample |
| University Liaison | Kimberly Weddle |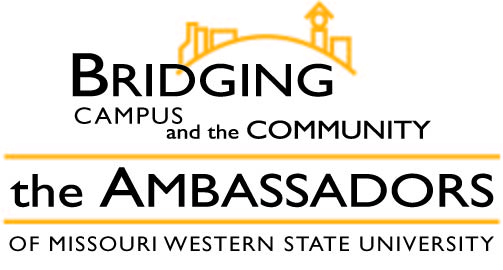 Membership Luncheons
November 2021 Luncheon
Nov. 18
Spring Luncheon
March 2022
For more information, contact: